Walking along Taipei's Songyan district, one's gaze can barely miss the colossal steel scaffolding that is the Taipei Dome (abbreviated TD). Fun fact: although TD's construction started since 2011, it is still unfinished today. However, this delay lies not in construction inefficiency…
Fig.1: The Taipei Dome is a gargantuan building that easily dwarfs other skyscrapers in Taipei. Upon completion, it is mainly expected to host sporting events, but also includes commercial functions such as shopping malls, movie theatres, hotels and office spaces
Source: https://focustaiwan.tw/society/202008080015
…What truly hindered TD's completion were fervent protests against Taipei's government and TD's developer – the Farglory Group (fig.2). Standing in the way of excavators and concrete trucks, the public were objecting the removal of roadside trees to accommodate TD's construction:
Come day or night, protestors hindered the Farglory Group's attempts at removing the trees around Taipei Dome.
[1:20-1:50]: protestors linking hands to form a human barricade that blocked industrial trucks' access to the construction site
[2:34-3:30] By using their bodies as a shield, protestors stand guard over Songyan's trees despite being outnumbered and confronted with demolition machinery.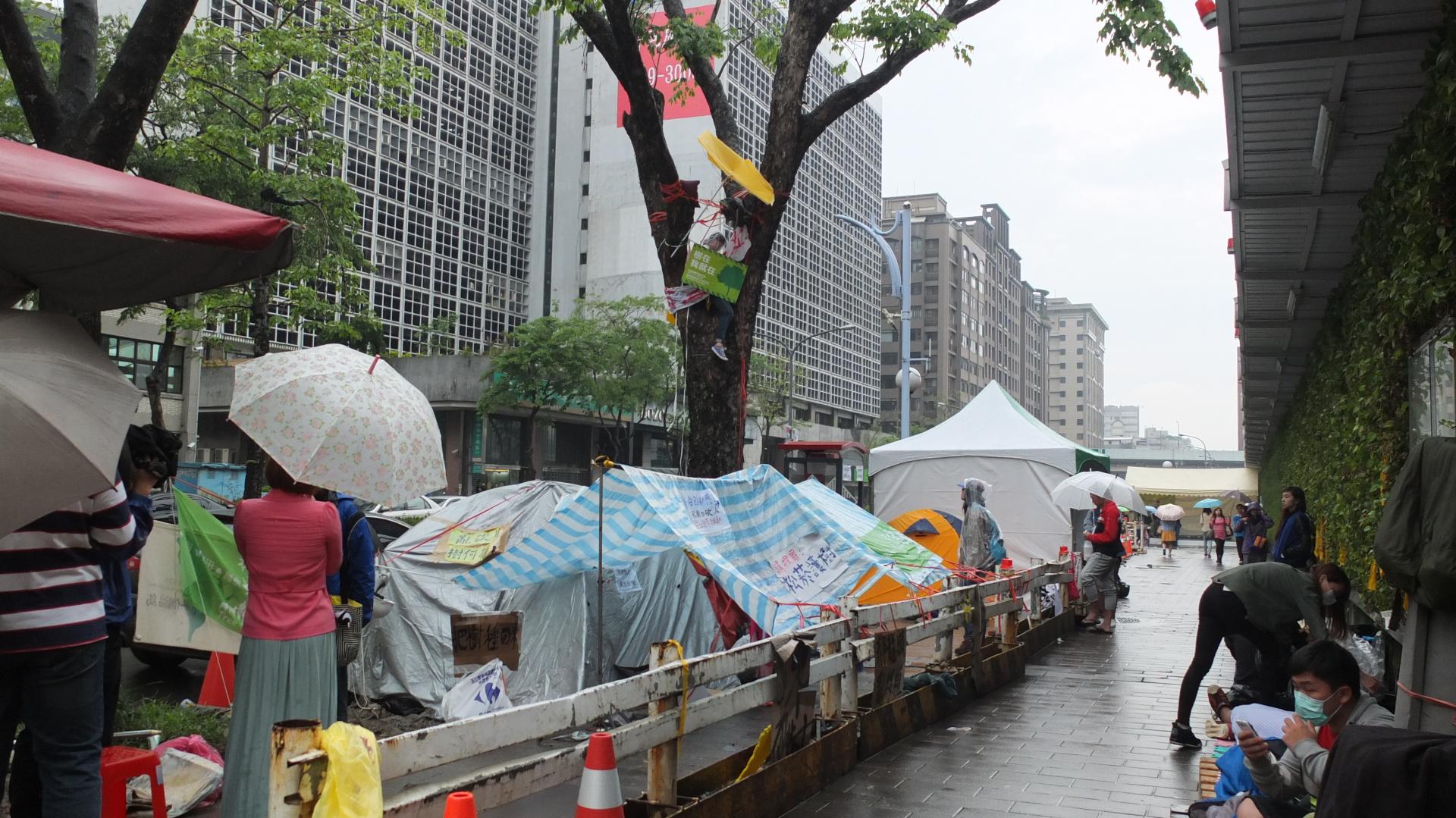 Fig.2: In an expression of solidarity, protestors are seen setting up encampment around roadside trees. Their message is simple: that they are not going to leave unless Songyan's trees are here to stay.
Source: https://ourisland.pts.org.tw/%E7%86%B1%E9%96%80%E4%BA%8B%E4%BB%B6/%E6%9D%BE%E8%8F%B8%E5%B7%A8%E8%9B%8B
Unhappy Tree Friends
At first glance, these protests (over just some trees) seem exaggerated. However, for Taipei's citizens, the demonstrations encapsulate a broader dissatisfaction that extends beyond the immediate protection of roadside greenery. In another blog post, a fellow coursemate illustrated how trees embody ideological conflicts regarding Beijing's urban governance – accordingly, the same can be said for Taipei. To understand this better, let's take a look at the tree which started it all:
Fig.3 An old camphor tree's relocation journey: initially sporting a broad canopy (left), the tree was heavily trimmed to relocate it away Taipei Dome's gazetted site to a new planting site (middle). There, the tree's health severely deteriorated and it eventually succumbed to root rot despite efforts to revive it via multiple nutrient injectors (right).
Source: https://blog.xuite.net/quakef4/twblog/156709932-%E5%8F%B0%E5%8C%97%E5%B8%82%E8%80%81%E6%A8%B9%E6%96%B0%E8%81%9E%EF%BC%8D%E6%9D%BE%E8%8F%B8%E8%80%81%E6%A8%B9%E7%9B%B8%E9%97%9C%E6%96%B0%E8%81%9E+
The above depicts the story of Taipei's oldest, biggest camphor tree. At 70 years old, it was relocated to make way for TD's construction. However, following its haphazard relocation, it developed root rot and died within a year. Its death sparked public outcry regarding the callous treatments of many other historical trees who were also relocated due to TD's construction. This led to a series of embittered struggles that lasted till today, as seen earlier in fig.2.
Notably, the protests to protect Songyan's trees were so prominent that it seeded new political dialogues. Besides the formation of a new political "Tree Party", current Mayor Wen-je Ko also once admonished tree relocations during his 2014 election campaign:
Fig.4: In this facebook post 7 years ago, Wen-je Ko (then running for the position of Taipei Mayor) wrote: "If we cannot treat the trees as trees – as a living, breathing object – how can we build a society which treats humans as humans? The way in which we treat our historic trees is not a mark of a civilized society. Here, I call on all members of the society to place pressure on this matter. Taipei can be a better, moral city. Thank you everyone."
Notably, Ko's opposition against the Songyan tree removal was also rooted in his anti-corruption stance. This stemmed from earlier scandals that TD's construction tender was unfairly awarded to the Farglory Group, who allegedly offered political bribes during the previous Ma administration.
However, despite initially halting TD's construction in 2015 as elected Mayor, Ko eventually reversed his initial stance, permitting the Farglory Group to resume tree removal in 2017. This political flip-flop once again incited the resurgence of protests, which lambasted Ko's administration for forsaking public voices to appease corporate interests.
Fig.5: An accusatory banner at the site of the Taipei Dome construction. Following Mayor Ko's approval of the relocation of Songyan's historic trees, the sign accuses him of dishonesty regarding his previous promises to protect them.
Source: https://newbloommag.net/2018/01/25/taipei-dome-historic-trees/
Rooting for Fairer Environmental Futures
Crucially, Songyan's tree protests highlight that urban trees do not merely take root within soil and concrete; its positioning within the urban landscape also branches into political questions of democracy, governance and rights to the city (Paola, 2019).
This cultural dimension extends from Tidball's (2014) theorisations of trees as symbols of urban resilience. Notably, Tidball observed the cultural significance of tree-planting rituals and how tree presence are community expressions of healing and solidarity during societal adversities (e.g. natural disasters, terrorist attacks). Accordingly, this symbolism draws strength from biological understandings of trees as markers of life cycles and vitality:
"[trees] make concrete and material the abstract notion of life [and are]… ideal supports for symbolic purpose because their status as living organisms is ambiguous" – Rival, 1998 in Tidball, 2014
Thus, Songyan's story is a foil to Tidball's portrayal of trees as symbols of urban resilience and fortitude: conversely, when these symbols become threatened, Taipei's social fabric became fragmented and antagonistic.
More importantly, the cultural significance of urban trees highlight their potency as spaces of resistance. Primarily, the protests against TD are legitimized via theoretical framings of trees as personified – although TD's land redevelopment is legal, it becomes portrayed as malicious when such attempts are resisted by protestors who are 'shielding a life' with their bodies. The act of safeguarding trees, therefore, demands correcting the status quo and creates bargaining space for alternative urban politics to coalesce.
Fig.6: Beyond demanding the protection of Songyan's trees, the protests have also articulated public desire for fairer environmental politics. Notably, community activists has called for 1) policy reforms that prioritise roadside greenery conservation 2) crackdown on corrupt politics by demolishing the Taipei Dome and 3) in its place, to construct a public park instead.
Source: https://www.ettoday.net/news/20140506/353986.htm
In sum, the TD debacle exemplifies that trees are not impassive actors in environmental politics (Staddon, 2009). Songyan's trees have evidently created fertile ideological grounds to retaliate against the agencies of powerful capitalist actors, who often reinforce socially deTREEmental modes of nature production. Fundamentally, this also urges a rethinking of normative urban aspirations: perhaps, a city's mark of progress is not so much measured by its sheen of economic vitality (as the TD embodies), but in whether it accords respect to urban natures and the spaces they inhabit – in other words, to treat them as fellow brethren who rightfully share the urban-natural landscape around us.
(731 words)
Bibliography
Paola, D. P. (2019) ""I don't care if they put trees on it, it's still a skyscraper" Exploring activists' dissensus against Milan's urban greening and sustainability approach", Master Thesis Series in Environmental Studies and Sustainabiltiy Science, MESM02 20191, LUCSUS (Lund University Centre for Sustainability Studies)
Staddon, C. (2009) "The Complicity of Trees: The Socionatural Field of/for Tree Theft in Bulgaria", Slavic Review, 68, 1, 70-94.
Tidball, K. G. (2014) "Seeing the forest for the trees: hybridity and socio-ecological symbols, rituals and resilience in postdisaster contexts", Ecology and Society, 19, 4, 25.