Following from the topic of human waste, this blog will focus on a different type- garbage, the term given to an object that loses value when it is used up.
The vlog by Adam Spires broadcasted the multiple waste issues Cape Town faces. For example, he has shown the effect of millions of litres of raw effluent sewage entering the sea each day, but also plastic.
Currie and Musango (2016), categorised 120 African cities by resource consumption intensity in 2010 which ranked Cape Town ranked as the fourth most resource intense city in Africa, consuming an estimated 49.9 megatonnes of material per year and producing 2.67 million tonnes of waste each year. Of this, it is estimated that 15,000- 40,000 tonnes is plastic which enters the sea annually (Vester and Bouwman 2020). One consequence is on marine life- microlastics
As of 2012, landfills in Cape Town has an estimated of 15 years left of usage (Western Cape Government 2012). Furthermore, as mentioned, the lack of municipal service provision in informal settlements has prevented the movement of waste to the landfills or recycling plants in Cape Town. This has led to dumping in local rivers which flow directly into the Atlantic. Waste disposal is often considered not a technical issue but a political one (Guariso et al., 2009). New approaches needed to be discussed.
The Western Cape has established an Industrial Symbiosis Programme to facilitate the transformation of waste from a linear model which increases pressures on landfills and promotes throwaway culture to a circular model where the notion of waste gains a value again (Green Cape 2016). For example recycling plastic creates industries of potential economic growth and can create new products. This gives objects a new life and shows a new material metabolism where Cape Town is making plans to design out waste.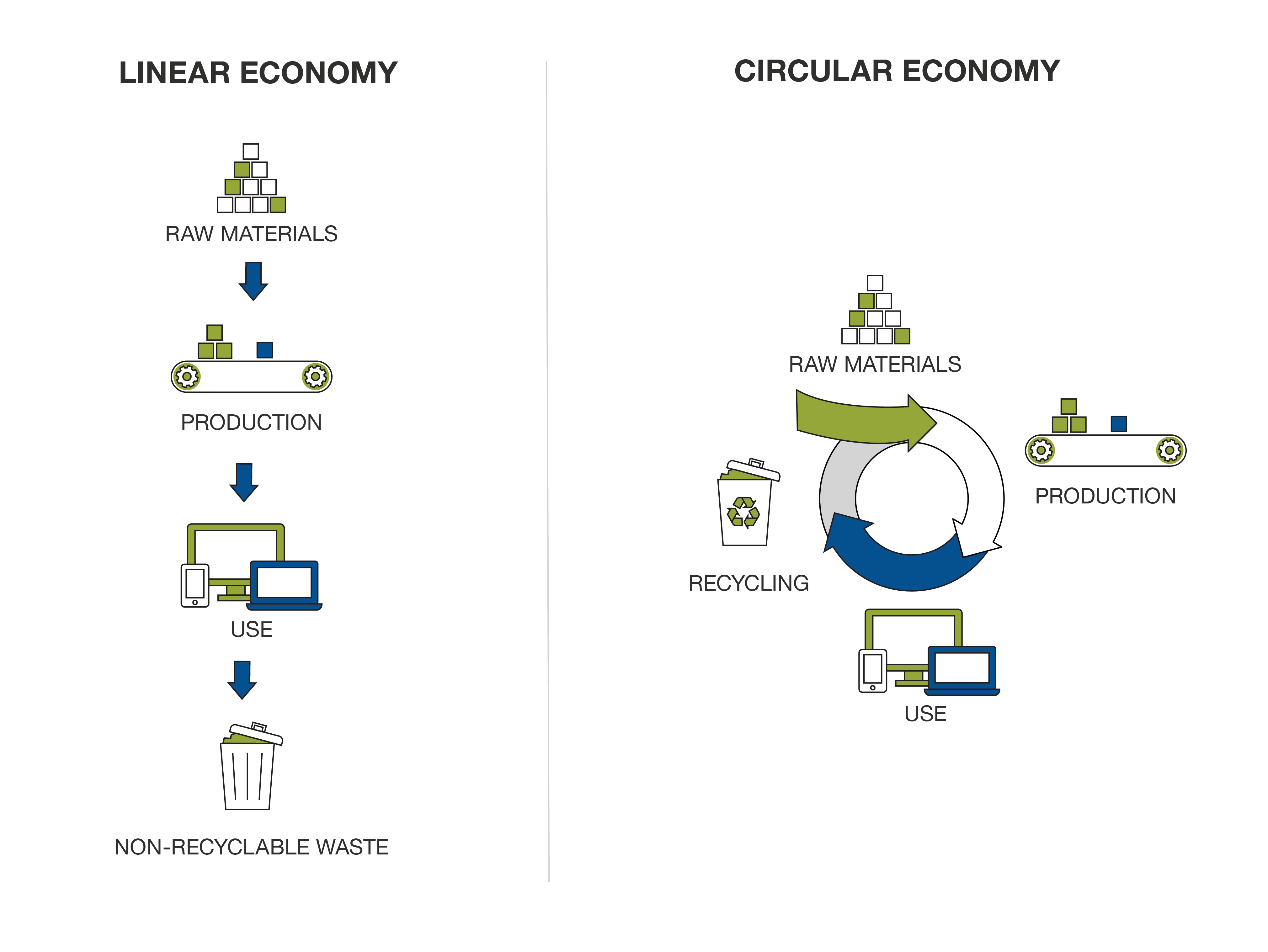 Re-using waste's properties
As part of the circular model, the Kraaifontein Waste Management Facility is aiming to convert 0.5 tonnes of plastic waste into 500 litres of oil per day; 70% of which will power the facility (Currie et al., 2017).
Other solutions: Floating plastic litter booms were introduced in June 2020 to waterways to collect waste, preventing entry into the ocean. They were designed to not degrade over time and be easy to use. In 2017, across 20 booms, 700kg to 1 tonne of plastic were collected and removed each day. These were then sorted to be converted into oil.
However, microplastics are small enough to move with the water under the boom. This can then enter marine life, for example, across 27 sites in Cape Town in 2018, 98% of mussels contained microplastics (Sparks 2020) suggesting the urgent need to better methods to pollution.
Despite circular economies removing plastics and converting into oil, the system works retrospectively and doesn't necessarily change consumption patterns. Furthermore, to alter waste's property it has to be collected to be transformed which isn't possible with such small microplastics.
Summary:
Top down strategies can change the cycle of waste to ensure a longer use of material products such as the creation of oil. Furthermore, collaborative community efforts reducing consumption and littering will ultimately also protect the sea for plastic pollution. However, the real solution is decreasing consumption altogether.
Word count: 558
References:
Currie, P.K., Musango, J.K. and May, N.D. (2017). Urban metabolism: A review with reference to Cape Town. Cities, 70, pp.91–110.
Currie, P.K. and Musango, J.K., 2017. African urbanization: Assimilating urban metabolism into sustainability discourse and practice. Journal of Industrial Ecology, 21(5), pp.1262-1276.
Green cape (2016). Waste Economy – 2016 Market Intelligence Report. [online] . Available at: http://greencape.co.za/assets/GreenCape-Waste-MIR-2016.pdf [Accessed 27 Aug. 2019].
Guariso, G., Michetti, F., Porta, F. and Moore, S., 2009. Modelling the upgrade of an urban waste disposal system. Environmental Modelling & Software, 24(11), pp.1314-1322.
Western Cape Government, 2012Western Cape GovernmentMunicipal governance report: City of Cape TownWestern Cape Government, Cape Town (2012)Retrieved fromhttps://www.westerncape.gov.za/text/2012/11/city-of-cape-town-rmt.pdf(Accessed August 10, 2016)
Verster, C. and Bouwman, H. (2020). Land-based sources and pathways of marine plastics in a South African context. South African Journal of Science, 116(5/6).
Sparks, C. (2020). Microplastics in Mussels Along the Coast of Cape Town, South Africa. Bulletin of Environmental Contamination and Toxicology, 104(4), pp.423–431.